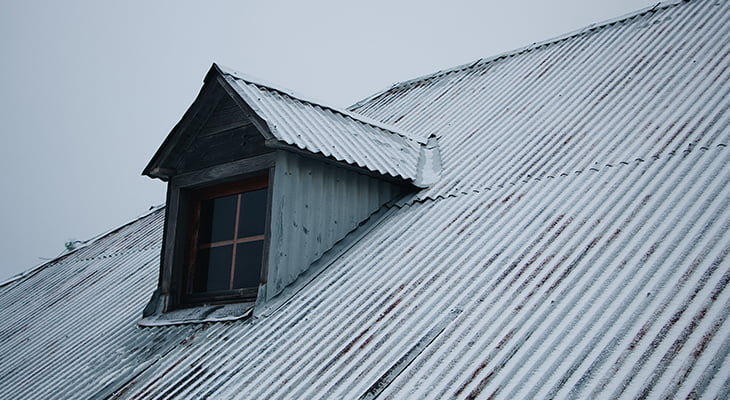 The unmatched flexibility and unbeatable durability make residential metal roofing a perfect choice for every wise homeowner. Given the uncountable perks these roofing systems provide, along with being fairly priced, what more could anyone ask for? Truly, their rising vogue and craze amongst homeowners is for good reason and very well understood.
Metal roofing systems' inherent weather resistance qualities making them a perfect suitor for your home. Their remarkable endurance to wind pressure and load-bearing capacity makes them the ultimate choice for homes in Edmonton.
As professional metal roofing contractors, we would also recommend metal roofing as the ideal choice for your residential properties in Edmonton.
Read Also: 8 Ways Metal Roofing Beats All Other Types Of Roofing
But like any other part of your house, your metal roof also requires a good deal of protection against the elements. Just because metal roofs are known to boast immense endurance and resistance, does not mean that you can leave it unattended in harsh weather conditions. Frequent weather beating can actually reduce its efficiency and, ultimately, the roof's lifespan.
Although metal roofs rarely require maintenance, you are not entirely free of your duty to duly inspect the roof for any apparent or hidden signs of damage. Neglection, in this regard, may nullify all the benefits discussed earlier and can render your roof valueless.
Undeniably, winter brings with it numerous issues for every roof type and material. Comparatively, metal roofing systems withstand these issues better than other types. Nonetheless, it is well worth the effort to promptly identify and fix these issues.
To help you with the latter, this blog post explores some of the common residential metal roofing issues one may face in the winter and how you can prevent them.
Damage Due To Snow Dumps By Blizzards
Before we discuss this point, it is imperative that you understand that the severity of damage caused in winter primarily depends upon your metal roof's quality. The latter directly depends upon the reliability of your chosen residential metal roofing contractor, their installation skills, and the quality of metal they utilize.
Ultimately, these winter issues can either amplify or curtail depending on how well the roofing system is installed. So, maintenance is not all that saves your metal roof.
Blizzards are not a new thing for Alberta. Although we don't receive as much snowfall as Quebec, blizzards leave us in shock from time to time. While most Canadian residential roofs are sloppy to prevent water or snow accumulation, snow heaps are just inevitable during snow storms and freezing temperatures.
Blizzards can dump massive loads of snow in a matter of hours. If your metal roof is not installed properly, it can begin to sag or, in the worst case scenario, collapse. The only way to evade such situations is by shedding off the snow load quickly and requesting timely residential metal roof repair services.
Wreckage Resulting From Strong Winds
Like blizzards, wind storms are also a common occurrence in Edmonton and across Alberta. There is nothing shocking about finding your neighbour's ripped-off roof shingles in your yard after a wild windstorm.
Primary, this phenomenon occurs if your roof has well surpassed its service life limit. If it is kept in good shape, the parts of your metal roof will remain intact and will not be likely to be ripped away by the wind. But if your roof has seen better days, we recommend you request metal roof installation services from a reputed metal roofer like Stahl Roof Systems.
Ice Dams
The freezing winter temperatures with the occasional warmth of the sun result in this occurrence. When the sun hits the upper part of the roof, the snow melts and flows downwards. However, the snow on the lower part of the roof that does not get the sun's warmth does not melt. Hence, when the semi-molten snow reaches the frozen snow, it refreezes and builds a mini dam wall.
Thus, the molten water from the top just accumulates and forms a dam. This stagnant water may seep into the roof deck through cracks and joints, creating a leak. In turn, these leaks result in mold, mildew, and even roof corrosion.
The only way to avoid this is by keeping your gutters free of debris so that the water just drains down rather than refreezing.
Wrinkling Due To Metal Expansion And Contraction
From your chemistry class, you may remember that metals expand and contract with changing temperatures. Similarly, residential metal roofs also have this inherent trait. Thus, when a metal roofer fails to provide for the expansion and contraction of the metal, the metal wrinkles due to inadequate space.
This phenomenon, again, results from inadequate installation.
Leaky Flashings
Flashings are the metal strips at the corners, ridges, and edges. These often loosen up due to strong winds if they aren't installed properly. As a result, molten snow can leak through the flashings directly into your house.
You can prevent this leakage by requesting timely metal roof repairs.
About Stahl Roof Systems
We are a team of certified and experienced metal roofers specializing in residential, commercial and industrial metal roofing services. Learn more about
Stahl Roof Systems
.Need high-end roofing services?
Contact us
now.