RESIDENTIAL METAL ROOFING

SERVICES IN EDMONTON
Where in commercial and industrial settings, roofs play a primary role in providing the first line of defence against elements of nature, for residential buildings, it also plays an extremely important role in aesthetics.
A properly designed and curated residential metal roof gives your home a look that will define your taste and will make a lasting first impression on everyone. A metal roof not only provides the best protection but also makes your home more appealing.
Having a strong metal roof over your house is very important for keeping your family and your house safe hence, installing residential metal roofing will keep your mind at ease.
Here is why you will have peace of mind after getting a residential metal roof installed:
They are long-lasting and come with longer warranties
They provide a great aesthetic and go with modern architecture
The panels are easily customizable
Metal roofs are energy efficient
You can choose from a wide range of colours and finishes
Metal roofs that are installed properly by certified residential metal roof installers will last for several years without any issues.
Residential Metal Roof Repairs In Edmonton
Residential houses undergo a lot of wear and tear over time which is why they require professional repair services to avoid any leakages, cracks, temperature control and other issues down the road.
Hence, it is crucial that after installing your metal roof you get it regularly inspected and maintained by professional residential metal roofing contractors. We at Stahl Roof System provide the top rated residential metal roofing repair in Edmonton so feel free to contact us today.
Why Choose Stahl Roof Systems?
When you have to decide on which roof suits you and your home the best, there are many factors and options to consider other than just the appearance.
At Stahl Roof Systems we have the best trained residential metal roof installers who are skilled and know how to install and repair metal roofs perfectly. Our skilled team at Stahl Roof Systems has decades of experience in making sure that you have the best roof over your head, after all the roof of your residential property comes first.
So if you are considering replacing your old existing roof with new residential metal roofing then feel free to contact us for a free price quote.
RESIDENTIAL ROOFING


PROJECTS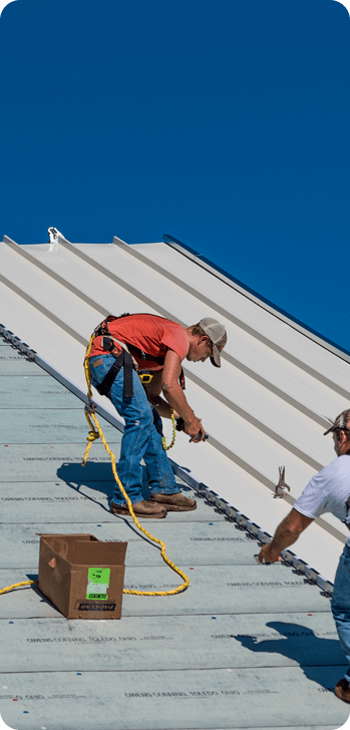 Our Services
Stahl Roof Systems provides a complete range of services when it comes to residential roofing. Our service span includes:
New residential roof construction
Metal roof installation
Residential roof repairs
Residential roof maintenance services
Residential metal roof replacement