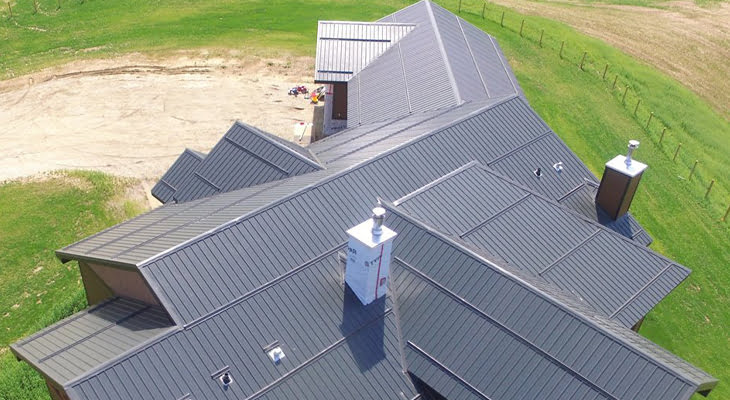 Metal roofing is known for its impermeability, longevity, and high resistance. Metal roofing has incredible insulating properties, which makes it popular among residents. It is also known for being the strongest during all sorts of weather conditions and for providing exceptional finesse to roofs.
Metal coils, sheets, and panels are the main components of metal roofing. Metal roofing panels have the unique property of attaining any desired shape that a roof demands. Metal roofing contractors believe that metal roofing survives decades longer than any other ordinary material.
Let's look at the top 8 reasons why metal roofing surpasses all other types of roofing materials.
Retains An Extended Life
Metal roofing is engineered to last longer than any other roofing material. It has properties like no other roofing material. Thus, the signs of degradation or corrosion are often someone's last thought when it comes to metal roofing.
When we hear about metal roofing services, we only think about commercial roofing. But, metal roofing is an essential part of residential areas as well. It keeps your house in shape for much longer and requires minimum to zero maintenance. During heavy weather conditions, it works like magic and holds its shape well, which gives it leverage to extend its reliability.
Read also: Common Myths About Roof Repairs
Are Non-Combustible
One thing you should know about metal is that It works like a superhero when it comes to protecting your life from fire. They attain a higher degree of fire-resisting properties. Metal roofing proves to be the safest choice in any unfortunate event. Commercial roofing is a crucial decision as the company's future depends on its protective features. Metal roofing would be the way to provide a secure environment for workers and the facility itself.
Safes Cooling Cost
A vital property of metal roofing is that they are energy-efficient. Metal roofs help customers to reduce their cooling expenditures by at least 25% as it reflects heat. They reflect heat away from the building, which means it delivers a cool and calm environment for the workers. That is why many industrial companies hire metal roofing contractors for industrial roofing.
Durability And Resistance
No matter where you work or live, heat, wind, rain, snow, and even hail or mould are common living conditions for all. Metal roofing retains the fundamental properties of being consistent and substantial against all roofing threats, making it more widespread. They hold their shape way longer than any other material and are durable. Investing in metal roofing will never go wrong as it will prove to be the best among all with time.
Insects On A Roof Is A Big No!
Insects can easily make any human paranoid and disgusted. Roofs usually consist of various mysterious creatures that mankind could only find when looking from the top. Insects are likely to live on brick or commonly used roofing materials, which fortunately is not the case with metal roofing.
Metal roofing companies let us know that metal doesn't attract insects of any sort as they do not have the characteristics of absorbing moisture and don't rot. Thus, metal roofing protects you from the fear of insects on your roof.
Minimal Maintenance
Metal roofing requires minimal supervision. They have a simple surface area that can be straightened up or cleaned with minimal equipment and need no major renovation. They don't need painting or chemicals for cleaning. So you won't have to waste all your finances on your metal roof maintenance and care.
Environmentally Friendly
We are all accountable for keeping our environment safe and sound for ourselves and future generations. When it comes to metal roofing services, they can be perceived as harmful to the environment. But, reality strikes differently as metals are materials that can be recycled completely. According to a study, they are manufactured from 25% to 95% recycled materials. At the end of their lifespan, they can easily be recycled again, causing no harm to the atmosphere.
Malleable Material
Metal, for many customers, can be unattractive or straightforward. What they are not aware of is that this is 2022. Humans can do things no one could ever visualize. Metal or aluminum is a shapeable material. You can mould it according to your needs and make various eye-catching designs. You have a variety of compositions to choose from according to your preferences.
As a metal roofing customer, you don't have to hide your likes and dislikes but rather can share them with your metal roofing contractor so they can build a unique metal roof for your property.
About Stahl Roof Systems
Stahl Roof Systems is an accredited industrial, commercial and residential roofing contractor. We have been in the industry for quite some time now, one thing we never compromise on is our dedication to providing quality roofing services. Contact us today for more information.