Industrial Metal Roofing

SERVICES IN EDMONTON
Industrial roofs have to undergo a lot of stress and perpetual beating every day. This requires them to be sturdily built with the capability to withstand extreme weather conditions. The roofing wear and tear process is relatively rapid in manufacturing facilities. Chemicals and industrial residue can break down most industrial roofing materials.
Keeping this in mind, metal roofing is one of the primary choices for industrial settings. Since a metal roof system consists of overlapping metal roofing panels or shingles that are properly fastened to open framing or a solid substrate, they provide more security and are more durable.
Why Should You Choose A Metal Roof For Your Industrial Setting?
A few reasons why industry owners opt for metal roofs are:
They are long-lasting and come with longer warranties.
They provide a great aesthetic and go with modern architecture.
The panels are easily customizable.
Metal roofs are energy efficient.
You can choose from a wide range of colors and finishes.
Services We Provide
Stahl Roof Systems provides a complete range of services in Edmonton when it comes to industrial roofing. Our service span includes;
New industrial roof construction
Metal roof installation
Industrial roof repairs
Industrial roof maintenance services.
Industrial metal roof replacement.
INDUSTRIAL ROOFING


PROJECTS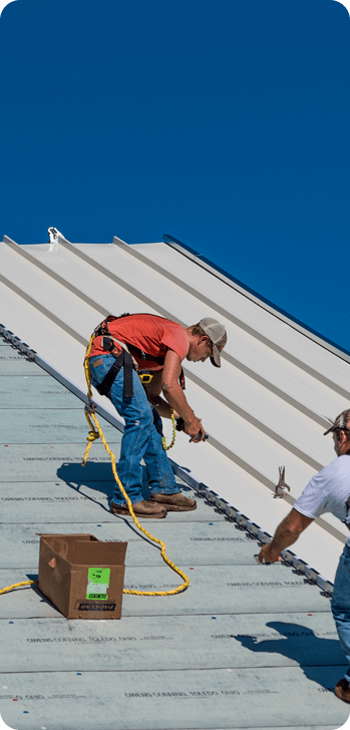 Choose Stahl Roof Systems


For Your Industrial Metal Roofing

Stahl Roof Systems is a professional metal roofing company in Edmonton offering highly skilled services in industrial metal roofing. Our team has what it takes to properly repair, maintain, install or replace industrial metal roof systems. Our roofs are low maintenance and durable enough to last for decades. No matter the weather or environment, our professional roofers ensure your industrial roof stays in good condition for a long time. We emphasize special care on our panels, sidings, and shingles during installation, helping them to last for years.

Deciding on a new industrial metal roof is not a routine task for businesses. Make sure you hire a team of industrial roofing experts who know how to get the job done right. Feel free to contact Stahl Roof Systems to discuss your industrial metal roofing needs.