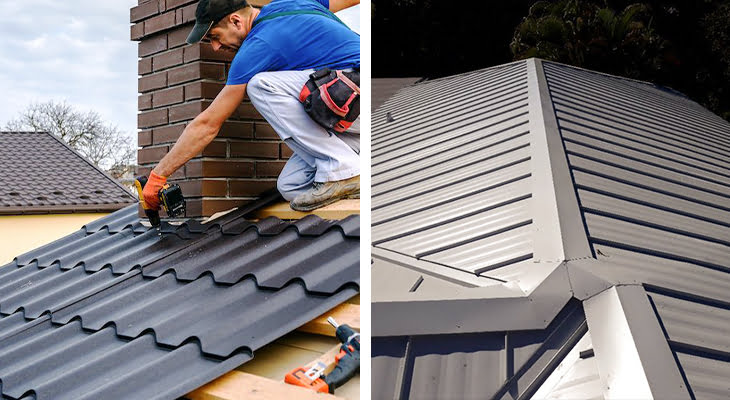 Residential roofing is an essential component of any home. It protects the house and its occupants from external elements such as rain, snow, wind, and sunlight. The roof is the first line of defence against natural calamities and plays a crucial role in maintaining the house's structural integrity.
Therefore it is essential to consider the different options available for residential roofing to ensure you install the best type of roof on your property. This blog post discusses the two primary roof installation methods – do-it-yourself (DIY) or hiring a professional roofing company.
DIY Roofing
While DIY roof installation may seem like an excellent way to save money, there are several disadvantages that homeowners should consider before attempting the project themselves. The disadvantages of DIY roofing are:
Safety Concerns
Safety is one of the biggest concerns regarding DIY roofing installation. Working on a roof can be dangerous, particularly if you're not used to working at heights or lack the right safety equipment.
Falling from a roof can cause serious injuries, even fatalities. Professional roofing contractors are trained in safety protocols and have the right equipment to protect themselves while on the job.
Also Read: How To Choose The Right Metal Roofing Profile For Your Home
Lack Of Experience And Knowledge
Roofing is a specialized skill that takes years to master. Even if you're a skilled handyman or DIY enthusiast, you may need to gain the knowledge and experience necessary to tackle a roofing project.
Professional roofers have spent years honing their craft and know how to navigate the intricacies of different roofing materials and identify and solve problems that may arise during installation.
Potential For Mistakes And Damage
Even small mistakes during a roofing installation can have serious consequences. A poorly installed roof can lead to leaks, mold growth, and other water damage. Additionally, if the roof is not installed correctly, it may not withstand extreme weather conditions, such as heavy winds or snow. Professional roofers have the knowledge and experience to identify and address potential problems before they become more significant.
Longer Installation Time
DIY roof installation can take significantly longer than a professional installation. With the right tools, equipment, and experience, completing the job quickly and efficiently can be easy. Longer installation time also means that your home will be exposed to the elements, which can lead to water damage or other issues.
Professional roofing contractors have the skills and equipment to complete the job quickly and efficiently, minimizing your home's exposure to potential damage.
Why You Should Hire Professional Residential Roofing Services
Considering the numerous disadvantages of DIY roofing, it is highly recommended that you hire professional residential roofing services. This way, you'll be able to enjoy the following benefits:
Experience And Expertise
Professional roofing contractors have years of experience and specialized knowledge in the roofing industry. They are trained to identify potential problems and have the expertise to address them before they become more significant. Professional roofers also have access to the latest technology, tools, and equipment to ensure that your roof is installed correctly and efficiently.
Quality Work
Professional roofing contractors are committed to providing high-quality workmanship to ensure that your roof is built to last. They use the highest quality roofing materials and follow industry standards and codes to ensure your roof is installed correctly. Professional roofers also have the experience and expertise necessary to ensure that your roof is adequately ventilated, which can prolong the life of your roof and prevent moisture damage.
Warranty
Professional roofing contractors typically offer warranties on their work, providing homeowners with peace of mind knowing that their roof is protected. If any issues arise during the warranty period, the roofing contractor will address them promptly and efficiently. Additionally, professional roofers carry insurance, which protects homeowners in the event of any accidents or damages during installation.
Quick Project Completion
Professional roofing contractors are committed to completing projects on time and within budget. They have the skills, tools, and experience to complete the job quickly and efficiently. Professional roofers also understand the importance of minimizing the time a home is exposed to potential damage from the elements.
About Stahl Roof Systems
Stahl Roof Systems is an Edmonton-based certified metal roofing company. We offer a wide range of services, including residential roofing services, through our roofing contractors, who are highly qualified, knowledgeable, and experienced in meeting your roofing needs. contact us today for more information.