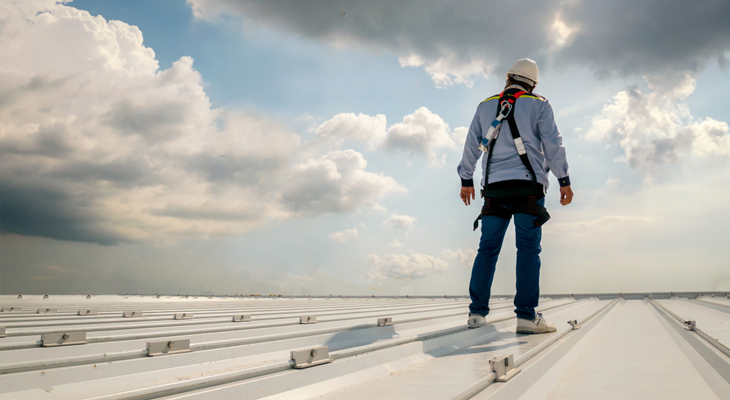 The importance of a viable, durable and sturdy commercial roof cannot be emphasized enough. A well-maintained and safe roof is crucial for the structural integrity of any building.
The importance of a commercial roof is similar, if not more, to a residential roof. Can you imagine living in a house with a cracked roof that invites rainwater, pests, insects and all sorts of debris into your attic?
An ill-maintained roof is not only a danger to the structure of the building but also poses a threat to people residing in the building and the equipment installed.
Ignoring roof maintenance can even lead to hazardous accidents. The water seeping in from the roof can cause short-circuiting, leading to an uncontrolled fire. Hence, it is imperative that you take the necessary precautions and schedule the necessary repairs as soon as possible.
As one of the best commercial and industrial roofing service providers in Edmonton, we believe it is up to us to raise awareness regarding the maintenance of your roof's health. In this blog, we have listed some of the easy ways with which you can improve your commercial roof's performance.
Also Read: Residential Vs. Commercial Roofing – Is There A Difference?
Schedule Bi-yearly Inspections
Inspection of your commercial roof by professionals is extremely important to ensure that the roof stays in optimal condition throughout its life. Professionals recommend that roof inspections be carried out at the end of the winter and summer seasons.
These are the harshest seasons and due to the expansion and contraction of the structure, splits and penetration points can develop. In such cases, regular inspections can help identify a potentially dangerous issue in time.
Ensure Safety Protocols Are Followed
Every commercial building has safety protocols for accessing the roof internally. These are necessary to ensure minimum wear and tear in addition to eliminating other safety concerns.
The protocol ensures that only those who have access to the roof are permitted. This will also reduce any unnecessary activity on the building's roof.
Ensure The Roof Has Plenty Of Useful Life Remaining
You can hire professionals to perform an SR PreVision analysis of your roof. It is a combination of objective roof evaluations, laboratory testing and computer modelling that allows the professionals to make an educated guess about how long the roof will be useful for without affecting the structural integrity of the building.
This way you can understand the condition of the roof and can take the necessary steps to increase the useful life of the commercial roof.
Consider Repairing
Replacing a commercial roof is a cost-intensive task that requires a lot of labour and time. Hence, before you jump to the conclusion of replacing your commercial roof, consider repair and restoration first.
Repairing and restoring an old roof can give you the same results at a much lower cost. Moreover, it is more environmentally friendly as well.
Choose The Right Contractor
Despite being vigilant about your roof's health, if you end up choosing an incompetent contractor for your roof's inspection, repair and restoration, you will not make anything out of it.
Choosing a contractor who is not proficient at what he/she does is just a waste of money. Hence, it is imperative that you take your time, do your research and talk to your colleagues before hiring a contractor for roof health investigation and repair.
Look for contractors that offer proven responsiveness, fair pricing, and impeccable safety.
About Us
Stahl Roof Systems provides a complete range of commercial roofing services in Edmonton and throughout the province of Alberta. From small businesses to large manufacturing facilities, our roofing solutions are designed to enhance the value of your commercial building.
New construction, metal roof installation, preventive maintenance, repair, coatings, and re-roofing are some of our services. As one of the most trusted commercial roofing contractors in Alberta, we empower each building with the best roof system available. Before starting a project, our experts make sure to clearly understand your requirements and future roofing needs.
If you're not sure how much it will cost to repair or install a new roof, feel free to contact Stahl Roof Systems for an accurate and free estimate.